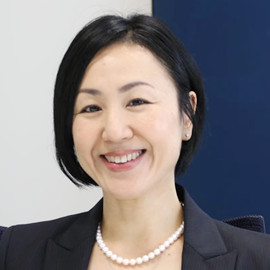 Ayumi Ura
She was Implementation Leader for HRD Asia Pacific team in Dow Chemical. In that role, she has conducted training sessions, consultation and communication sessions in more than 13 countries. Before that, she was career consultant in a recruiting firm.
In July 2006, she became a personnel consultant, independent as a training facilitator. She provides training and consulting services primarily for foreign-affiliated companies not only in Japan but also in Asia-Pacific and Europe.
In recent years, she is a part time instructor at the graduate school of Kogakuin University and is striving to develop students' business human resources.
In addition, she gives lecture at Nikkei business school and so on.
She is good at finding out the participant's own strengths and improvement points through interactive seminars that frequently use pair work and group discussions and leading to actions after the seminar.
Area of expertise:
Assertive Communication, Diversity. Women in Business, Conflict Management, Presentation, Global Discussion
contact us
Monday - Friday 9:00-17:30
Closed: Saturday, Sunday, National Holidays, New Years holidays (12/29-1/4)